Content creators & influencers love sharing their recommendations with their followers, but showcasing them in one place is one of the challenges they face.
You want to come up with engaging content & track your performance, too.
Shopple has the solutions you need, AND you can automatically earn a commission each time a sale is made through your recommendation.
We recently launched an AI-Generated Product Review to help you in creating content.
Before we get into the details, let us explain what Shopple is about and how it works.
What is Shopple?
Shopple lets you display all your recommendations with affiliate links conveniently.
With Shopple, you can do the following without requiring technical skills:
Adding your recommendations on your customisable page
Share your Shopple page on social media platforms
Earn more affiliate sales with Involve integration
Track your Shopple page performance
Withdraw your earnings
Learn more about how Shopple helps you promote your recommendations and get affiliate earnings here.
Now you know how Shopple works. Next, we will explain Shopple's latest feature, AI-Generated Product Review.
What is an AI-Generated Product Review?
Shopple's AI-Generated Product Review is an AI writing tool that helps users generate product reviews in English, Malay and Chinese.
AI-generated product reviews can be used:
For Shopple posts
As content when promoting products on social media
The AI-generated product reviews include Pros, Cons, Star Rating, Summary and Recommendations.
Note: AI-Generated Product Review can create product reviews for products you promote from selected Marketplaces such as Zalora, Tokopedia, NocNoc, Shopee and Lazada (applicable in all countries) at the moment..
Easily create your product reviews by using these three simple steps.
Step-by-step Guide: AI-Generated Product Review
Step 1
After logging into Shopple, click on the "+Add Link" button to add your post. Copy & paste product link in the "Link" section.
Step 2
a. Select the Language you want the Product Review to be in.
b. Click on the "Generate Now" button.
Step 3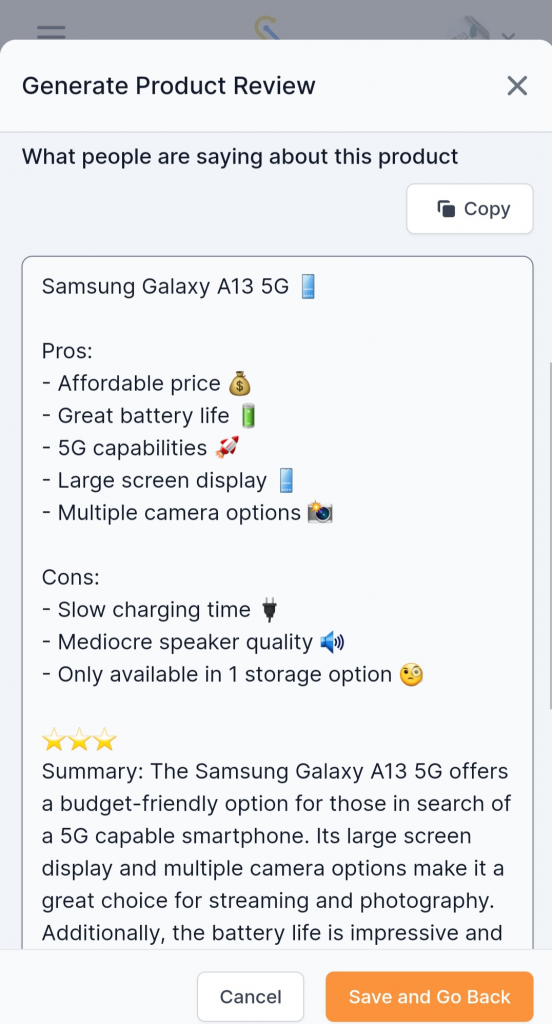 After the product review has been generated, click the "Save and Go Back" button to publish your Shopple post with the product review. You can also click "Copy" to use the review as your content for social media.
With Shopple's latest feature, you can create engaging posts with product reviews that get your followers to click and purchase your recommendations.
You can create product reviews with Shopple's latest feature free-of-charge for a limited-time only.
*Disclaimer: Shopple & Involve Asia are not liable for any AI-Generated Product Reviews created on Shopple.
Sign up for a FREE Shopple account & try it out by posting your recommendations with AI-Generated product reviews on your Shopple page.