Shopple is your go-to platform to share all of your recommendations in one convenient place.
In two months, a Shopple page named 'WMPYB PH Deals' gets 167 clicks and 44 conversions per day on average.
In this article, we will take a look at what that page did right & how you too can get more conversions on your Shopple page.
Suggest 'Must-Have' Items For Work & Home
Aries specialises in recommending tech & gadget items for work & home to his followers on his Facebook profile. He actively shares Involve links that direct his followers to the designated page.
However, it might be time-consuming for his followers to scroll through his Facebook posts and find recommended products to purchase through his Involve links.
With Shopple, Aries can easily set up his page and shares recommendations based on the types of products he is promoting such as laptops, mechanical keyboards, computer accessories etc.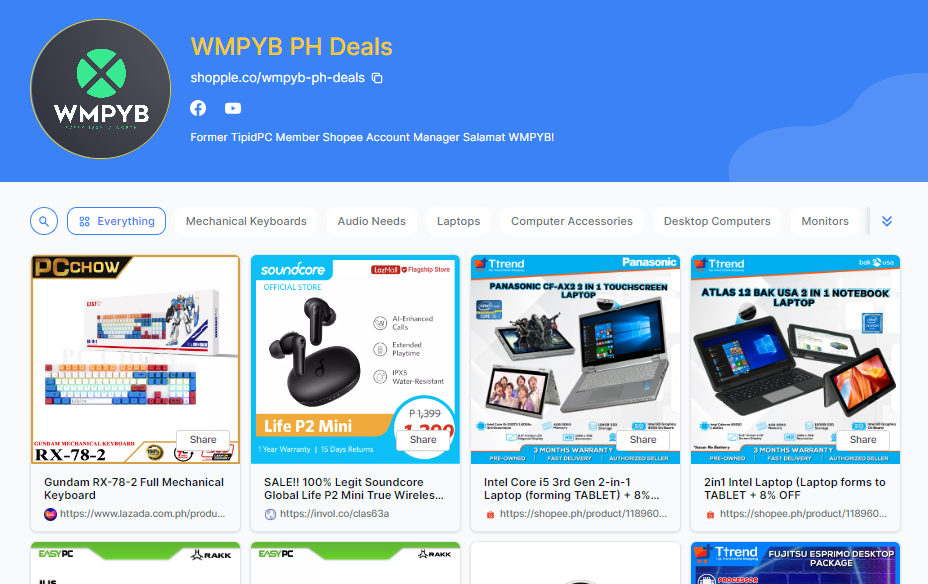 Shopple pulls the product image and description when he pastes the product URL. Since he has connected his Involve account with Shopple.
Shopple lets him know that the link is commissionable which means that he will earn money when his followers purchase the recommended product.
He arranges the links in Lists by specific product category items such as laptops, mechanical keyboards, computer accessories and others so it is easier for his followers to browse through his recommendations.
Share Your Shopple Page Link on Social Media
Aries Aguilar drives traffic to his Shopple page by sharing the Shopple link on his Facebook posts.
He shares the product that he is promoting with key highlights:
Brief product description
Product images
FOMO promotions (eg. limited-time discount)
Call-to-action
He also posts a short video of him trying the Gundam Theme mechanical keyboard.
Besides promoting the above product, he encourages online shoppers to visit his Shopple page to view other similar products.
Learn how to drive traffic to your Shopple page in our article here.
Wanna have consistent results of earning great results on Shopple Page like Aries Aguilar's?
Shopple enables you to manage and share your recommendations in one convenient platform. You only need to share your Shopple page link on social media. No need to update frequently via Settings when you have new links.
Sign up for Shopple by using your Facebook or Google account for FREE here: