Now that you have created posts with product videos on your Shopple page, you can also directly download these videos and share them on your website & social media platforms.
Engaging product videos will not only reach a wider audience but also entice your audience to click on your Shopple links & purchase your recommended products.
Here are 4 steps on how to download & share your video on other platforms:
About 3 minutes after you create your Shopple post with the product video, click on the 'Download' button to download the video. A pop-up will appear that says the file has been downloaded. Tap on the pop-up to view the video.
Click the 'Share' button to share your Shopple post to your social media platforms & website.
Upload downloaded product video & add a caption and generated Shopple link that takes them to designated sites – Shopple page, specific Shopple List page, or deeplink (brand's product page).
Publish the post with the product video you just downloaded.
Here is how Wanderlust Travel build traffics to the Shopple page & earns more conversions.
Wanderlust Travel wants to promote Shopple posts related to beach holidays on Facebook, Instagram, and TikTok, based on the audience's preferences.
She did the following to download & share product videos from Shopple and share them on different platforms.
She downloads a product video of portable travel fan and shares it on Facebook & Instagram with the Shopple link that takes them to the Shopple page.
She creates an engaging Facebook post with the product video and includes the following:
Short caption about the portable travel fan and her experience in using it
Shopple Deeplink – directs the online shoppers to the brand's product page
Shopple List URL – directs to a specific list so that online shoppers can view more must-have travel items for beach holidays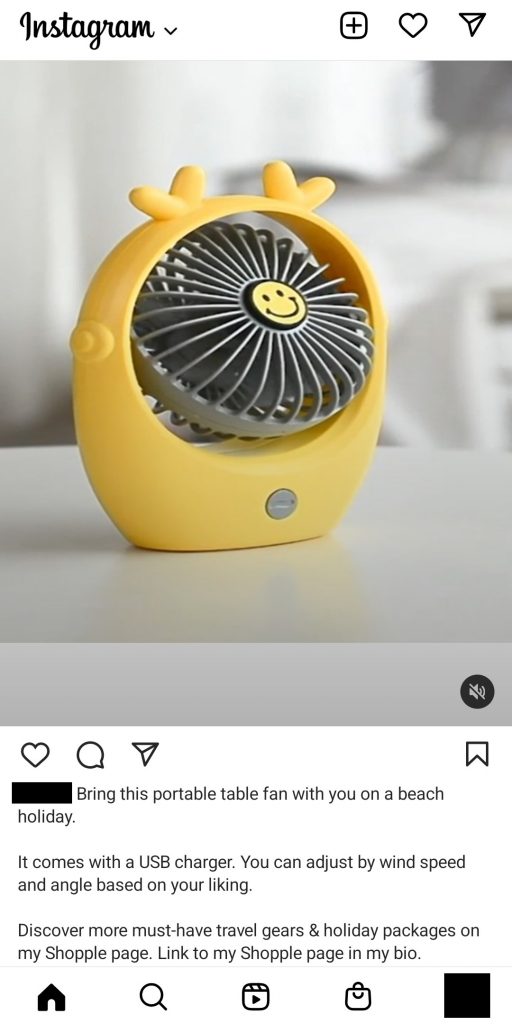 On her Instagram post, the caption includes:
A must-have item for beach holidays
Short review of the product
Mention more travel-related posts such as holiday packages, hotels, and flights on the Shopple page
Mention Shopple page link is in her bio
With Shopple, you have the accessibility to download the product videos & share them with Shopple links on your platforms. Helping you to widen your reach by including videos on your posts that help drive traffic & boost conversions.
Download product videos from your Shopple page & share them on your content!
Create your Shopple page by signing up on Shopple with your Facebook or Google account here.