Make your videos more engaging with downloaded product videos from Shopple!
Download the product videos from Shopple as snippets and add them to your videos as you edit them.
This helps minimise your efforts in finding video snippets presenting the products you want to promote.
It's easy to download product videos and edit them on any device.
Mobile – suitable for Facebook, Instagram, Twitter and TikTok content
Desktop – more professional video editing for YouTube videos
Each product video has a maximum size of 5MB.
Here's an example of how Wow Tech uses product videos from Shopple for his video posts.
After he adds a Shopple post about the office mouse, Wow Tech wants to make a product review video and share it on his platforms – Facebook, Instagram & YouTube.
He downloads the product video of an office mouse and adds it to his videos. He makes a teaser video for his Facebook post so online shoppers can view the full video on his YouTube channel.
On the YouTube video description, he includes catchy captions and Shopple links, giving them the following options:
Find office mouse on his Shopple page
View more products similar to the office mouse in the specific List
Directly purchase the office mouse on the brand's product page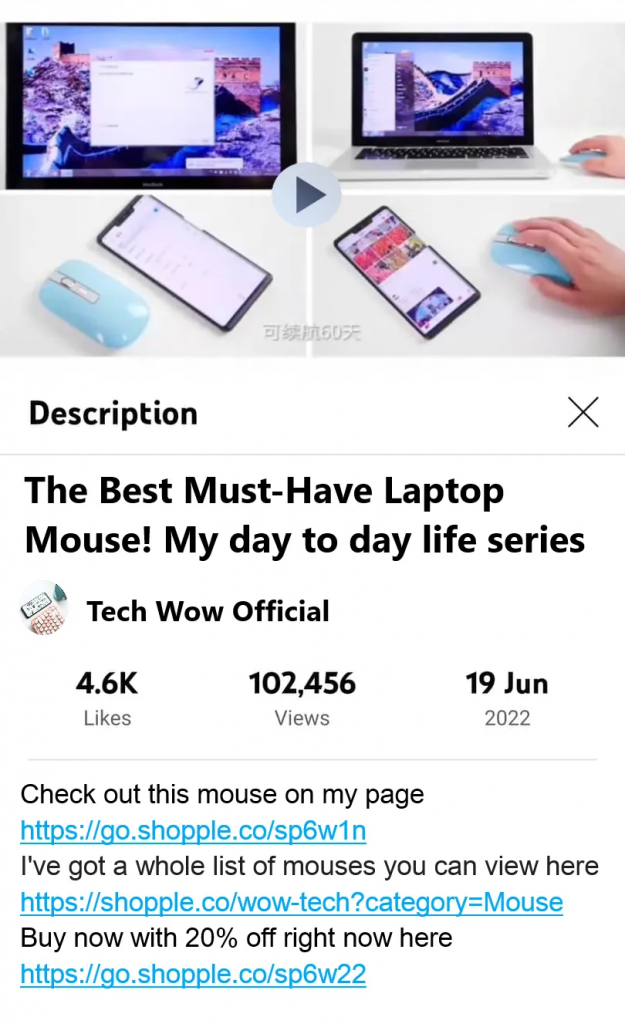 You could also download and compile product video snippets to use in your video posts so you don't have to buy the actual product to film your footage.
No camera to film the product? Not a problem! Just find compelling videos you need from Shopee or Lazada and add them to your Shopple page to download them.
Let's see how Wow Tech promotes a product from Shopple when he doesn't have the actual product.
He looks for product videos of tech products from Lazada and Shopee, and adds their links to his Shopple page so he could download the videos as snippets for his video post.
He compiles the downloaded product videos into one video with his mobile and then publishes it as an Instagram story.
His Instagram story includes:
Catchy caption with exciting discount & promotion
Call-to-action that encourages his audience to click on the Shopple link
Deeplink Shopple URL that goes to the product's page
Videos are the way to move forward to get more engagement and increase the click-through rate on Shopple commissionable links.
Download the product videos from Shopple and use them as snippets for your engaging video posts!
Click below to get started on setting up your Shopple page for FREE.