True trendsetters in heart and style, Fashion Influencers set the tone in our social media-driven world. They've taken Instagram and Tiktok by storm and carved out a whole following through snazzy pictures and engaging reels.
From outfit inspirations to thrift hauls and fashion DIYs, recent years have seen these influencers impact audiences to purchase products online due to creative approaches and styling based on popular OOTDs and trends.
At the same time, fashion influencers are finding solutions to display all their recommendations on one platform to provide better accessibility and convenience for their audience.
Here's how fashion influencers use Shopple to earn more commissions while promoting their favourite brands.
Fashionably Comfy in Home Apparel
From work-from-home clothes to pajamas, fashion influencers suggest comfortable & stylish everyday wear to lounge at home by showcasing them on their Shopple page visually with images and product videos.
Fashion influencers use Lists like color coding a closet so they can organise their links & recommendations that cater to everyone's needs, whether being presentable while having a Zoom meeting call at home, doing house chores, or winding down before bedtime.
With Shopple's unique feature for product videos, fashion influencers can easily show how people are dressed in home apparel, either uploading videos of themselves wearing home apparel or using downloaded Shopple product videos.
The List of home apparel or specific home clothing items can be promoted easily by sharing Shopple's trackable and commissionable links on social media & websites. These links enable fashion influencers to be creative in promoting home apparel to their audience.
Shopple metrics for individual posts help fashion influencers to see which home clothing item drives the most sales and conversions that influence their decisions in promoting the next fashion item for daily wear at home.
Displaying Casual Outfits to Wear on Weekends
Fashion influencers showcase popular casual weekend outfits on their customised Shopple page with static images and product videos.
They frequently update stylish OOTD casual clothing items, from petite blouses to floral dresses, with the best deals and coupon codes in Lists, giving the audience choices to select, purchase, and add to their wardrobes.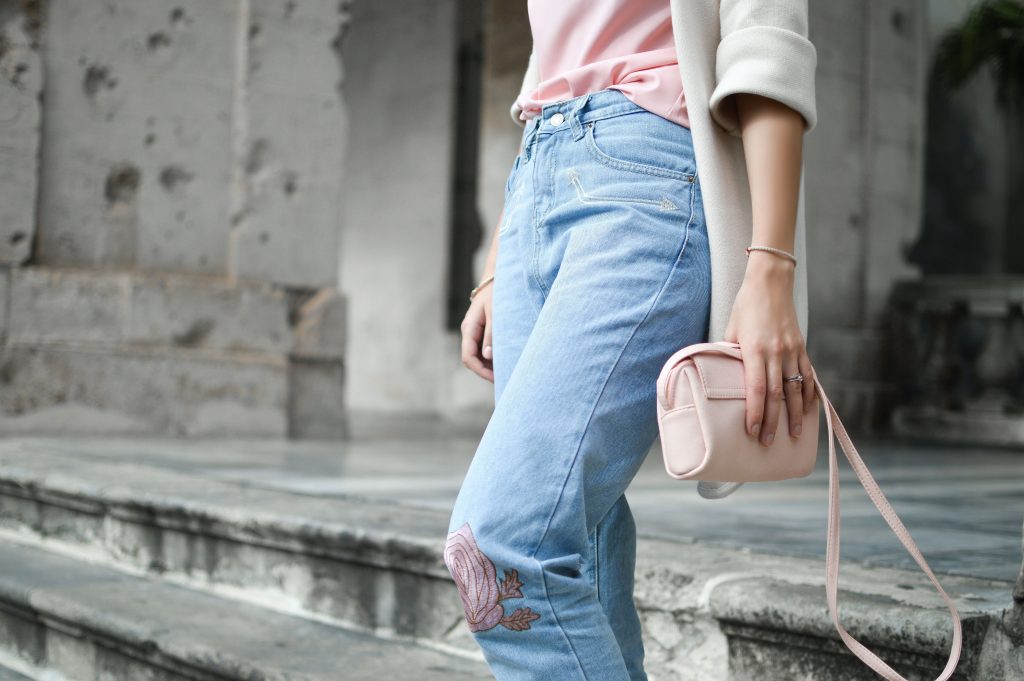 Show your fashion lookbook in Lists by presenting Shopple posts with images & videos of you and your friends modeling popular casual outing outfits for the weekend. In addition, you can directly upload your edited creatives into new & existing posts on your Shopple page.
Drive more conversions for certain fashion items for casual weekend outings by pinning them on top of your Shopple page.
Fashion influencers' social media content with their edited images & videos helps reach a wider audience and boost awareness of their branding.
Fashion influencers are given multiple ways to promote their favourite brands with commissionable & trackable Shopple links to share on social media & websites.
Branded Shopple page – visual lookbook featuring must-have fashion items for a casual weekend outing
Specific Shopple List – based on product type and colours
Specific product page they are promoting – a specific fashion item such as a Zara floral dress at Shopee or Chuck 70 sneakers at Converse brand store on Lazada
With these Shopple links, fashion influencers can strategically create content to cater to different audiences.
Shopple metrics for individual posts help fashion influencers to prepare their next fashion content with popular casual outing clothing items to wear on the weekend.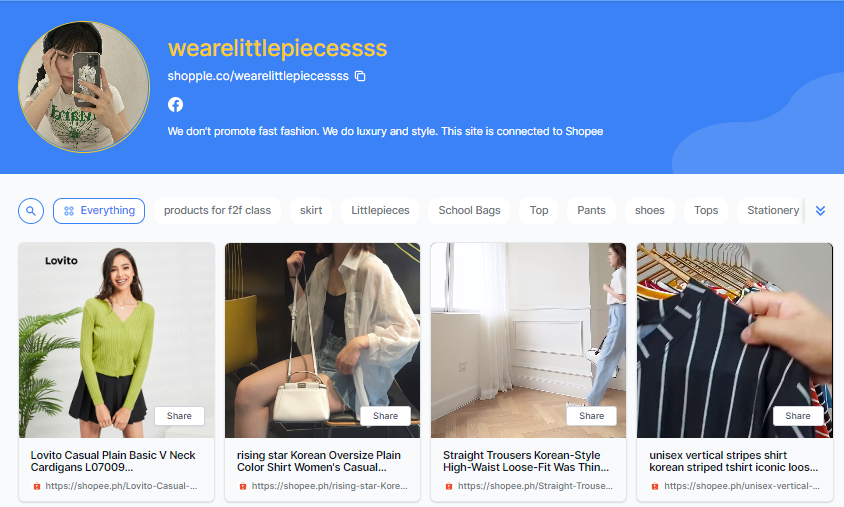 wearelittlepiecessss organises different types of casual weekend clothing items into Lists such as tops, pants, shoes, cardigans, and dresses. She also links with product videos of models dressing in skirts, tops, and pants from Shopee on her Shopple page.
She promotes her recommendations on her Facebook page by adding a Shopple page URL on the 'About Us' section and creating weekly Facebook posts with Shopple links, highlighting OOTDs ideas for causal weekend outings.
Using the Shopple metrics, wearelittlepiecessss notices that tote bags, high waist denim pants, and Converse sneakers perform better than other Shopple posts. So she decides to focus more on promoting these specific categories to her audience.
Presenting Business Attires for Work
Fashion influencers suggest ways to dress in fashionable business attire that impress their audience's colleagues.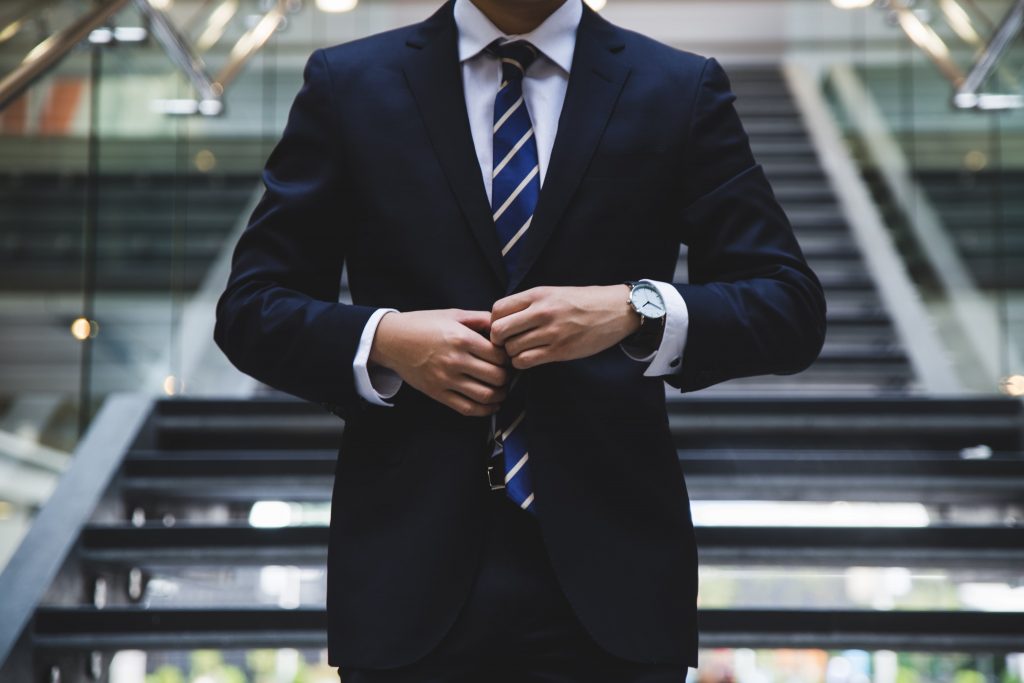 Like preparing a visual Powerpoint presentation professionally, fashion influencers share business attire recommendations in well-organised and eye-catching Lists featuring dresses, suits, pants, button-down shirts, blouses, and more.
Multiple commissionable links generated by Shopple let fashion influencers expand their creativity in promoting business attire on their social media and websites.
Adding the Shopple page URL to the social media bio
Create posts that direct the audience to the 'Business Attire' List
Promote a must-have clothing item to wear at work and include a link that takes the audience to the product page without needing to visit the Shopple page
No business attire to try out? Some fashion influencers can easily grab the downloaded product video of selected clothing items from their Shopple page and share them on their content.
Fashion influencers track which fashion item for business attire performs better by referring to Shopple metrics on individual posts based on views, clicks & conversions.
Sharing Fit & Stylish Activewear On-The-Go
Fashion influencers promote a wide range of fit & stylish activewear that cater to the audience's active sports activities, including running, Crossfit, gym, yoga, and cycling.
Based on popular sports activities, fashion influencers create dedicated Lists of specific activewear items, using product videos from Shopple to garner engagement and sharing multiple Shopple links on social media & websites.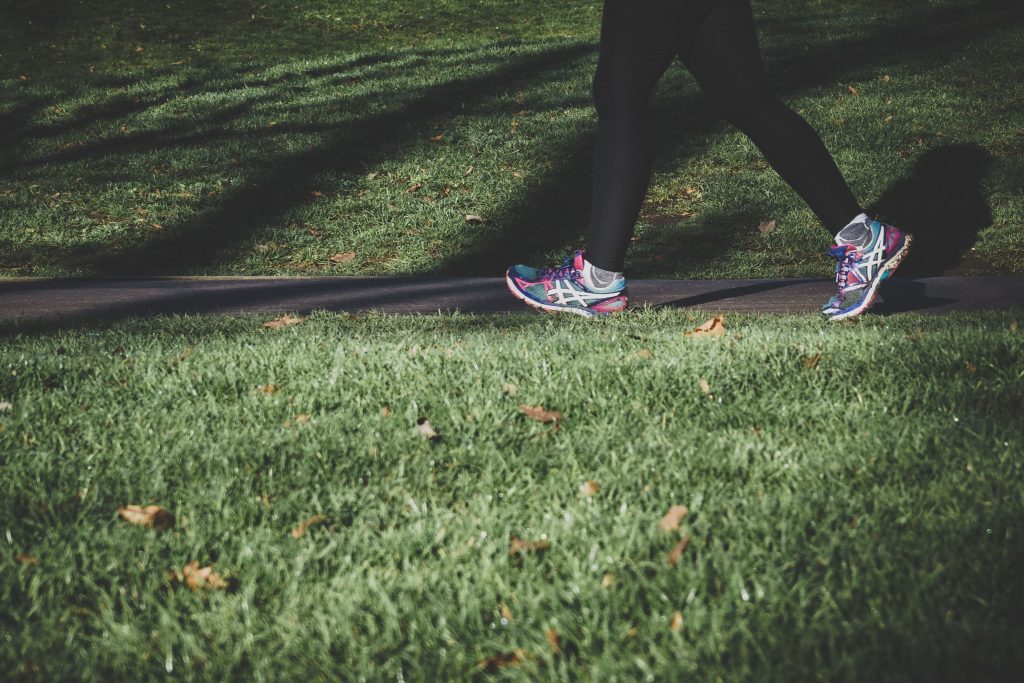 Let's say Fashion Influencer A wants to promote suggested activewear items for runners. So he puts running shoes, sports bras, sweatshirts, running shorts, and leggings into a List.
When he adds links to his Shopple page, he will get the product videos he can share as his content on Facebook & Instagram.
Also, he gets commissionable links that Shopple has generated. He can add those links to build more traffic and conversions. Some ways to do this:
Add the Shopple Page URL on his Facebook & Instagram bio
Create a post about activewear for running and add a link that directs his audience to the List of suggested activewear items for runners
Create a post about Nike Air Force 1 with product images and include a link that directs his audience to the brand's product page
Shopple metrics show
Which sportswear item performs better
Which content with Shopple links works on different social media platforms and websites
In this example, Fashion Influencer A posts two Shopple links on Facebook and TikTok.
Social Media Platform
Content
Performance after a week (numbers below are for illustration purposes)
Facebook (Shopple Link #1)
Product images of Nike Air Force 1
Add the Shopple product link in the CTA on the Facebook post's caption
Clicks: 2500
Conversions: 60
Earnings: $12
TikTok (Shopple Link #2)
Product images of Nike Air Force 1
Add a sticker link that directs customers to the product page
Clicks: 4500
Conversions: 141
Earnings: $32
After a week, followers engaged with content on TikTok more than on Facebook. So, moving forward, Fashion Influencer A should frequently promote products similar to the Nike Air Force 1 with Shopple links on TikTok.
Get started in promoting your favourite fashion brands and get earnings with Shopple's easy-to-use link-sharing platform by signing up with your Facebook or Google account below.