Double-date sales are when marketplaces and stores offer the best deals. It's like Black Friday… but almost every month! It's during these sales periods that your followers are likely to make purchases, so it's also the time for you to earn!
Using Shopple gives you a great opportunity to feature brands' top-selling products that will help boost sales that drive more conversions.
Here are 6 ways to enhance your Shopple page so that your audience will browse through & purchase products through your posts.
Share Recommended Products from Discover Page
If you need to quickly find the best-selling products to post, check out the Discovery page.
The Discovery Page compiles various top-performing products frequently shared by other Shopple users.
Browse through the Discovery Page by scrolling down to the bottom of your Shopple page or selecting the Discovery Page under the three-line icon on the top left corner of the menu.
Click on one of the posts to view more details about the product. Add the post to your Profile and put them in your Lists.
No time-consuming product hunting is needed! It's all curated in one place for you.
Learn more about how to use Discover Page in our guide.
Create Specially Curated Double-Date Sales Lists
Break down your product picks for the double-date sales into Lists for the same type of products on your Shopple page.
Add your product posts into customised Lists under 'Add to List'.
Let's say you specialise in recommending products from various marketplaces like Shopee & Lazada. The trending product categories that people often purchase from are Home & Living, Fashion, and Health & Beauty.
Add products you want to promote in Lists like this:
You can also align your posts with blog articles and videos to monetise your content.
Read more on how to boost your conversions with Lists here.
Your visitors will be able to view your Lists easily, leading to a seamless visitor experience.
Make Your Posts More Engaging with Images, Videos & Captions
Posts that highlight your recommended products with engaging visuals & captions help get your audience to click on them & purchase. Use videos that describe the product or creative captions to encourage them to click over.
Getting videos is very easy with Shopple. Just paste the product link onto your Shopple page and Shopple will automatically grab the product videos for your posts.
Here's a rundown on how you can add product videos to your Shopple page.
As for captions, they should be short and sweet. Include things like:
Brand name
Problem that the product can solve
Promo codes & coupons
For double-date sales, a good strategy is to add the FOMO (Fear Of Missing Out) into your captions so that your audience will not be missing out on any sales. Some examples are 'One-Day Sale', 'Limited Stock', and 'Last Day to Use Promo Code'.
Learn more about how to create posts that drive clicks here.
Share Individual Shopple Links on Social Media & Website
After you publish posts on Shopple, the next step is to share your Shopple links to other platforms.
Here are three ways to share your Shopple links:
Shopple page URL
Link to a specific Shopple List
Specific Shopple product link
Add your Shopple page URL on your social media profiles so it is visible to your audience when they visit your page.
On your social media posts, share your Shopple links with call-to-action captions to get your audience to click and ultimately make purchases.
Here's the following example of including the caption with your Shopple link: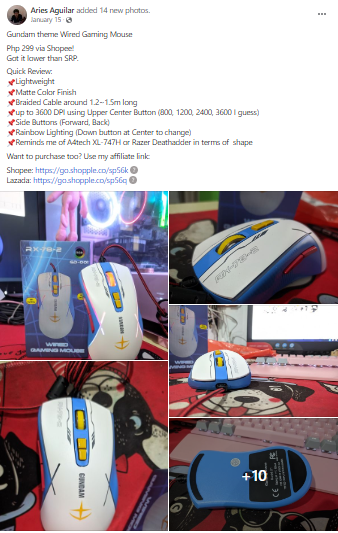 For a more detailed guide on how to drive traffic to your Shopple page, click here.
Create A Timeline For Posting Your Content
Making a timeline helps you plan and organise your upcoming content for double-date sales.
It gives you enough time to create and schedule your posts on various platforms.
Posting your content at the right time is crucial in maximising audience visits to your Shopple page.
Build a momentum that gets your audience to keep engaging with your posts about double-date sales.
Here are examples of some catchy social media captions to use during a double-date sale:
| Topic and Date | Caption |
| --- | --- |
| Teaser – 1 July | 7.7 Sales is coming near you! Check out the best offers on my page. |
| Health and Beauty – 3 July | Looking for items to add to your skincare routine? Here are some skincare products to try for different skin types – oily, dry, and a combination of both. Discover more skincare products and promo codes on my page here. |
| Home and Living – 4 July | Spruce up your living space with these affordable home deco and storages. Click here to browse through a wide selection of home and living items with great discounts, up to 70% Off. |
| Fashion – 5 July | Enjoy up to 77% Off on best-selling fashion items, from dresses to accessories! More fashion items for you to look at and purchase here. |
| Last Day – 7 July | Last day to purchase items from the top-selling brands at their 7.7 Sales. Hurry over to my page to purchase recommended products and enjoy discounts, cashback, and promo codes. |
Publish your posts once or twice a week to maintain and increase engagement.
Update Daily Promotions
Actively share daily promotions, including flash sales, that your audience must not miss during the double-date sales. Sharing them consistently will get them to come back for more updates about the products and promotions.
Daily posts create more opportunities to boost traffic, engagement, and conversions that help you earn more commission from the double-date sales.
Don't forget to share them on your social media or website after you publish your posts on Shopple.
Hope this guide helps you in promoting double-date sales on your content.
Start setting up your Shopple page and promote double-date sales for FREE.